VISION: Global acceptance and support for the responsible use of gene editing technology in agriculture and food.
MISSION: To cultivate support for the responsible use of gene editing in agriculture through the development and adoption of trust-worthy guidelines for the responsible use of gene editing, effective stakeholder outreach and engagement, and broad-based involvement and collaboration of those engaged in gene editing.
VALUES: The Coalition for Responsible Gene Editing in Agriculture recognizes a shared goal of building trust in gene editing that provides consumers safe, nutritious and affordable food produced in sustainable systems. These values will guide Coalition efforts.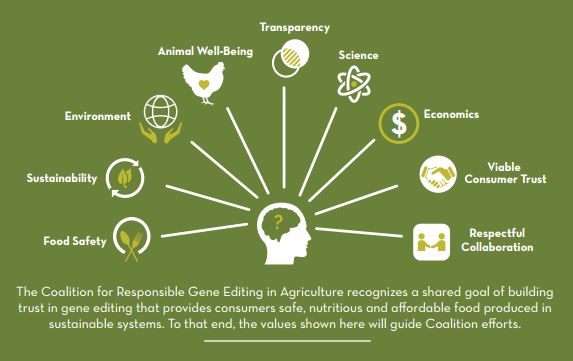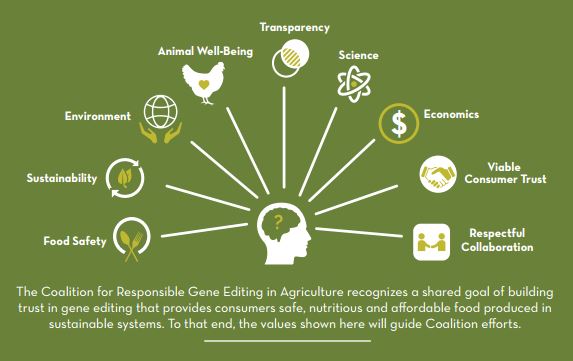 Food Safety – Assuring safe food is a top priority and cannot be compromised. We strive to provide safe food for all consumers in all settings, and we commit to share information and work with food system colleagues through the Coalition.
Sustainability – Simply defined, sustainability means providing safe, nutritious and affordable food while recognizing our ethical obligations to people, animals and the planet. Each sector of the food system is responsible to operate in a sustainable manner.
Environment – Sustainable food production should strive to minimize environmental impact, including land use, air, soil and water quality.
Animal Well-Being – All those in animal agriculture have a shared responsibility to assure that the animals raised for food production receive quality care that provides for their health and well-being.
Transparency – Consumers are increasingly interested in where and how food is produced. Collectively, the food system has an opportunity to share information and solicit feedback from consumers and other concerned stakeholders to create better understanding of gene editing in agriculture and food.
Science – We rely on science to quantify and evaluate whether or not systems are operating in a manner consistent with our other values.
Economic Viability – For consumers to continue to have access to an assured, safe, nutritious and affordable supply of food, the food system as a whole must be economically viable.
Consumer Trust – The Coalition will strive to build consumer trust in gene editing by incorporating these values into all efforts. The Coalition will work to understand consumer concerns and address those concerns through transparent engagement.
Respectful Collaboration – Coalition participants will focus on the shared goal of assuring that the potential for gene editing to benefit consumers and society at large can be realized. Members will demonstrate appreciation of other participants' needs and interests and will commit to listening and working together toward the common objectives.